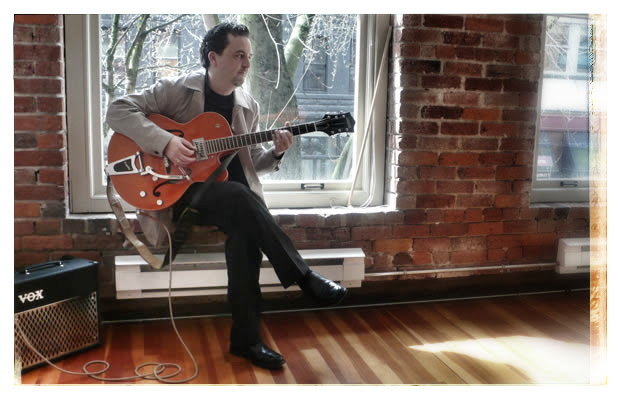 * Years ago I discovered the meaning of life but forgot to save the file. I breed prize-winning retweets. I have won hashtag fights in San Juan, inbound competitions in Sri Lanka, and spelling bees at the Kremlin.

My passion for online technology is immense and I am deeply interested in the community aspect of what the internet "could" become if we as a whole are motivated to make it happen. We, us, all of us collectively as a community – a Collective. A heady, doves will fly, peace and love ideal I know. Unrealistic? Perhaps.
On top of my considerable programming and interactive design experience, I am a trusted digital strategist and advisor. A rare hybrid of left and right brain thinking, I spend a significant amount of time researching online technology and have a deep interest in social platforms.
For most clients, design is the fun part of a project. It's exciting to choose colors and pontificate palette decisions. And it's tempting to start there.
My counsel is always to take a step back and consider critical business issues. Ask key questions. Then let the answers inform the choices.
So What Do You Do?
I plan,create and actualize strategies within digital platforms to drive customers to the point of purchasing product, filling >the cart, engaging with social channels or driving conversion to physical locations. Understanding and monopolizing these conversion paths ultimately delivers a property that provides measurable results. These results can then be evaluated to continually improve, revise and reiterate strategy in turn monopolizing all available paths of conversion.
My experience as an interactive designer, programmer, business owner and educator assist in providing deep comprehension into both the form and function of today's digital channels. This past experience and deep functional knowledge is a crucial strength when providing strategic insight and recommendations.
Specialties:
assisting clients in understanding detailed technical concepts in straight forward, non-technical terms by avoiding industry acronyms
a skilled interactive designer, who has worked with world scale brands
strong team builder
a deep personal interest in online social platforms
Clients Past & Present
Newest
Concur | Vancouver Giants
Real Estate
Whistler Real Estate| Garrison Crossing | Alamar | Predator Ridge | SkyReach Homes | Avanterra | Acquire Canada | Whistler Legacy | Prudential | Lake Las Vegas | Superstition Mountain | Snowmass | River Rock North Carolina | Trump Tower | The National Association Of Realtors
Construction
Pelling Industries | Build Direct | Sasco Contractors| Alka Pools| Kenorah
Financial
Peoples Trust | Barkley Capital | all.ca | Cosulich Group | Group Health | Horizon Plus | BC Discovery Fund | Bizflex | The Affluent Lawyer
Resource Sector
Yukon Zinc | Pacifica Resources | West Timmins Mining | BPK Resources | Aurizon Mines | TVI Pacific | Sunrise Minerals | Sunridge Minerals Inc. | Mega Silver | SilverCrest | Redfern Resources | Laurentian Gold Fields | Pinetree Capital | Nevada Geothermal | Oro Gold | Oro Silver | Zazu Metals| Hadro Resources | Slater Mining | UMA Group | Newcore Energy | Southampton Ventures| Redcorp Ventures| Platinum Group Metals | Novagold| Northern Orion | Minefill | Monument Mining| GoldQuest | GoldSource | Glamis Gold | Fury Explorations | Endeavour | Crescent Resources | Mega Uranium| Associated Geosciences| Brownstone Ventures| Zoloto Resources | East Asia Minerals | Puget Ventures | Boss Power| Eden Energy| Silver Wheaton| Cronus Resources| Goldbrook Ventures | International Enexco | Cash Minerals | JobMine | BC GoldCorp | Cue Resources | Silverstone Resources | Colossus Minerals
Education
School Board Authority – BAA | BCELC | BCSTA | School Community Connections | Keywork Resources | LSLAP | Erickson College
Human Resources
Granville West | PR Associates | HRorg | careers@wcfc.com | AW Fraser
Software
GOXml | FireSwirl | Aquatic Informatics | Safe Software | XML Global | Filosafe | PhotoChannel | Class Software Solutions | Municipal Software | Immerse | Xenos
Travel / Tourism
West Coast Fishing Club | Black Ball Ferry | TORC | Harrison Beach Hotel | Nautilus Explorer | LinkBC
Sports / Sports Medicine
Next Testing | Kaizen Holistics | Timex Series Alberta | Hockey and Sons | Athletics Alberta
Manufacturing
Highland Foundry | Electron Metals | Kongsberg Simrad | Cratex Containers | JFC Solutions | Columbia Manufacturing | Carmanah Design and Manufacturing
Retail Sector/Sales (Online/Offline)
Pacific Balance | Brand Aid | Haida 1774 | Venice Bakery | Gourmet BC | Okanagan Spring Water | Cottonwood Mall | Rogest | Westcoast Fishing Club | CAREgifts – Estore | Crush Clothing | myCitymarket | RCD Solutions | Chocolate Concepts | Central City | CedarStone Outdoors | The Wise Guide | FreshKon Contact Lenses | Budget Brake & Muffler
High Tech
Oasis Wireless | CityXpress | Chrysalix | Convedia | myCom | myInternet | Fuel Cells Canada | The Current Corp | 3 One media | MiVault | Medmont
Bio – Tech
Inflazyme | Cardiocomm | Celator | Global Cardio | IBR | Advectus Life Sciences
Entertainment Industry
The Snow Walker | Big Mountain Concerts | Koko's | Edgemont TV | Generation Rave | Black Cloud | Infinity | Dusty Imoo | Randy Cohen's A Question Of Ethics | The Smerconish Podcasts | Real Estate Today Radio | Bob Kingsley's Country Top 40 | DialGlobal | BBC Kids | CBC Music | OutTV | Gay Direct | The Michael Smerconish Program
Non Profits
Fishing for Kids | Community Kitchens | Food is The New Black | Vancouver Foodbank | CARE Canada | Celebrty Alumni AllStars | Bill Reid Gallery | Vancouver International Dance Festival | Souls In Stride | BC Childrens Hospital Foundation | Canadian Helpers Society | We Create BC | MPPIA
Agency Internals
We Create With Spirit | Next Phase Strategy | Immerse | Creative Spirit Communications | Kontent Creative | Momentum
Interactive CDs
Resource Sector
NovaGold | PanAmerican Silver | Endeavour Silver | UC Resources | Redcorp Ventures | Nevada Geothermal | Cardero | Alexco
Retail Sector
WiseGuide Demo | Utimate Viewer Install | Ultimate Viewer Tradeshow Screen
Medical
HNK | Vancouver Coastal Health
Real Estate
Time Real Estate | ZSTL Industries
Travel / Tourism
Nautilus Explorer | West Coast Fishing Club
Public Sector
Vancouver Police Department | WorksafeBC | WCB Scaffold
Consulting
Klohn Krippen | LifePilot | FireSwirl Technologies
Non – Profits
Fishing for Kids
Human Resources
Charterhouse
Internals
Creative Spirit Communications
Entertainment Industry
Nascar V8 | NHL Canada
Financial
BizFlex
StoryStations – Large scale interactive touchscreens.
Lake Las Vegas | Snowmass | Avanterra | Silvertip | River Rock | Superstition Mountain | Predator Ridge | Trump Tower Waikiki
User Interfaces
Software – Online Applications
Ultimate Viewer | my.com | Immerse | control-C
Public Sector
DecisionNet
Retail Sector
oNext | VIP Poker