james wallace | digital strategist, husband, dad, instructor, designer …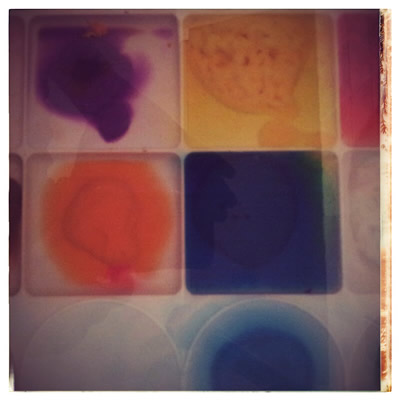 My passion for online technology is immense and I am deeply interested in the community aspect of what the internet "could" become if we as a whole are motivated to make it happen. We, us, all of us collectively as a community – a Collective. A heady, doves will fly, peace and love ideal I know. Unrealistic? Perhaps.
On top of my considerable programming and interactive design experience, I am a trusted digital strategist and advisor. A rare hybrid of left and right brain thinking, I spend a significant amount of time researching online technology and have a deep interest in social platforms.
For most clients, design is the fun part of a project. It's exciting to choose colors and pontificate palette decisions. And it's tempting to start there.
My counsel is always to take a step back and consider critical business issues. Ask key questions. Then let the answers inform the choices.
I am a dynamic figure, often seen scaling walls and crushing ice. I have been known to remodel websites on my lunch breaks, making them more efficient in the area of client retention. I translate online slurs for legacy media refugees, I write award winning Ello posts, I manage time efficiently.
Occasionally, I tread water for three days in a row. I woo everyone with my sensuous and godlike banjo playing, I can pilot projects up severe inclines with unflagging speed, and I cook Thirty-Minute Brownies in twenty minutes. I am an expert in nothing, a veteran in all things, and an outlaw on Reddit.
Using only a Kingelon N8000 Android phone (low on battery) and a large glass of water, I once single handedly defended a small village in Farmville from a ferocious army ported over from Clash of Clans. I play Twitter troll with kindness, I was scouted by mySpace, I am the subject of numerous documentaries. When I'm bored, I build large gantt charts in my yard. I enjoy urban bottle picking. On Wednesdays, after work, I repair electrical appliances free of charge, mostly VCRs.
I am an abstract LinkedIn artist, a Classmates analyst, a Snapchat auteur and a ruthless bookie.
Critics worldwide swoon over my original line of Periscope evening wear. I don't perspire. I am a online citizen, yet still receive no fan mail. I have been caller number nine and have won the weekend passes. Last summer I toured Serbia with a traveling centrifugal-force demonstration. My Instagram account is now closed.
My deft online campaigns have earned me fame in international botany circles.
Children trust me. I can hurl online comments at small moving objects with deadly accuracy. I once read The People's Platform, Information Doesnt Want To Be Free, and Converge in one day and still had time to refurbish an entire Facebook campaign that evening. I know the exact location of every item on Etsy. I have performed several covert operations with CIRA.
I sleep once a week; when I do sleep, I sleep in a chair. While on vacation in Canada, I successfully negotiated with a group of online trolls who had seized a small bakery's Facebook page. I balance clients needs with their wants, I weave via automation, I dodge terms of service, I frolic, and my bills are all paid.
On weekends, to let off steam, I participate in full-contact yoga. Years ago I discovered the meaning of life but forgot to save the file. I breed prize-winning retweets. I have won hashtag fights in San Juan, inbound competitions in Sri Lanka, and spelling bees at the Kremlin.
But I have not yet …..
Note: Copy is originally adapted from email meme (1993) written by Hugh Gallagher.
So What Do You Do?
I plan,create and actualize strategies within digital platforms to drive customers to the point of purchasing product, filling >the cart, engaging with social channels or driving conversion to physical locations. Understanding and monopolizing these conversion paths ultimately delivers a property that provides measurable results. These results can then be evaluated to continually improve, revise and reiterate strategy in turn monopolizing all available paths of conversion.
My experience as an interactive designer, programmer, business owner and educator assist in providing deep comprehension into both the form and function of today's digital channels. This past experience and deep functional knowledge is a crucial strength when providing strategic insight and recommendations.
Specialties:
understanding the difference between digital strategy and tactics
assisting clients in understanding detailed technical concepts in straight forward, non-technical terms by avoiding industry acronyms
a skilled interactive designer, who has worked with world scale brands
strong team builder
a deep personal interest in online social platforms
Find Me Online
Twitter
Facebook
LinkedIn
Somewhere
Email
Google+
Work
Stumpie + One Eye
LastFM
about.me
tumblr
Klout
On SoundCloud
Nice Things People Have Said
Rick Sloboda
Senior Web Copywriter | Webcopyplus
James is great at getting to the core of issues in a bid to deliver clients exceptional results and ROI. He's hard working and a pleasure to collaborate with.
Wincy Aquino Ong
Vancouver Film School | Student
An excellent, no-nonsense instructor, James Wallace is an asset to Vancouver FIlm School. His knowledge of digital marketing runs deep, and he is eager to share it to students. I had learned a lot from his classes.
Jessica Wakeman
Product Marketing | Hootsuite
I had the opportunity to work with James for about 6 months at Kontent Creative Group. James is knowledgeable as well as skilled in online and interactive design and usability. He also has an exceptionally in-depth understanding of online and offline social networks. His experience and professionalism combined with his upbeat demeanour make him a pleasure to work with. I am extremely lucky to have worked with James and I hope to work with him again in the future.
Mack Flavelle
VP of Biz Dev | Tapstream
Working with James is a rare privilege that you should seize if ever given the opportunity.

His experiences in design, business and people management are extensive and his willingness to share them make him a huge advantage to any team trying to accomplish almost any project.

I fully expect to be turning to James for advice, mentorship and wise counsel for many, many years to come.
Datis Mohsenipour
Marketing Campaign Specialist | Vivonet
James' industry knowledge and overall knowledge about *everything* never ceased to amaze me. Over the course of my three month internship at Kontent Creative Group Inc., I managed to absorb so much information from James, whether it was job-specific or random (mostly job specific).

I greatly appreciate having the opportunity to work with James, He has helped me with my personal-growth and taught me how to maintain a strong balance of hard-work ethics and fun on the job.
Morgan Westcott
General Manager | LinkBC
James was the lead designer on a number of web projects relating to communications for LinkBC. I thoroughly enjoyed working with him as part of the technical team hired through Creative Spirit Communications. He is personal, knowledgeable and relates sometimes complicated technical aspects in a clear, easy-to-understand way. A meeting with James is relaxed and conducive to creativity.
Cloe Windus
Art Director, Web Developer | Artropolis Media
James is not only one of the most talented designers/programmers i know, he is a top-notch, detail oriented media guru, always on the cutting-edge of new media. He has the outstanding ability to combine his excellent creative knowledge with a high technical background to produce one-of-a-kind products, with a great worth ethic even in most extreme situations. I would always recommend James for his immense skill-set and for being a true leader.
Philip Solman
Publisher | Edible Vancouver
James is a pleasure to work with. He will challenge you with smart questions and back up his ideas and opinions with bags of knowledge. I look forward to having the chance to work with him again.
Sushant Sund
Creative Lead | CBS Interactive
James's exceptional insight and experience has served myself, the team and our projects exceedingly well. His knowledge and unique ability to seamlessly apply logic and effective design solutions in a practical fashion is invaluable. This combined with his fantastic sense of humor and relationships with clients make James a truly exceptional person and a great source of inspiration for any team or organization.
Clients – Past + Present
Real Estate
Whistler Real Estate| Garrison Crossing | Alamar | Predator Ridge | SkyReach Homes | Avanterra | Acquire Canada | Whistler Legacy | Prudential | Lake Las Vegas | Superstition Mountain | Snowmass | River Rock North Carolina | Trump Tower | The National Association Of Realtors
Construction
Pelling Industries | Build Direct | Sasco Contractors| Alka Pools| Kenorah
Financial
Peoples Trust | Barkley Capital | all.ca | Cosulich Group | Group Health | Horizon Plus | BC Discovery Fund | Bizflex | The Affluent Lawyer
Resource Sector
Yukon Zinc | Pacifica Resources | West Timmins Mining | BPK Resources | Aurizon Mines | TVI Pacific | Sunrise Minerals | Sunridge Minerals Inc. | Mega Silver | SilverCrest | Redfern Resources | Laurentian Gold Fields | Pinetree Capital | Nevada Geothermal | Oro Gold | Oro Silver | Zazu Metals| Hadro Resources | Slater Mining | UMA Group | Newcore Energy | Southampton Ventures| Redcorp Ventures| Platinum Group Metals | Novagold| Northern Orion | Minefill | Monument Mining| GoldQuest | GoldSource | Glamis Gold | Fury Explorations | Endeavour | Crescent Resources | Mega Uranium| Associated Geosciences| Brownstone Ventures| Zoloto Resources | East Asia Minerals | Puget Ventures | Boss Power| Eden Energy| Silver Wheaton| Cronus Resources| Goldbrook Ventures | International Enexco | Cash Minerals | JobMine | BC GoldCorp | Cue Resources | Silverstone Resources | Colossus Minerals
Education
School Board Authority – BAA | BCELC | BCSTA | School Community Connections | Keywork Resources | LSLAP | Erickson College
Human Resources
Granville West | PR Associates | HRorg | careers@wcfc.com | AW Fraser
Software
GOXml | FireSwirl | Aquatic Informatics | Safe Software | XML Global | Filosafe | PhotoChannel | Class Software Solutions | Municipal Software | Immerse | Xenos | PowerGold | Concur
Travel / Tourism
West Coast Fishing Club | Black Ball Ferry | TORC | Harrison Beach Hotel | Nautilus Explorer | LinkBC | Concur
Sports / Sports Medicine
Next Testing | Kaizen Holistics | Timex Series Alberta | Hockey and Sons | Athletics Alberta | NHL Canada | The Vancouver Giants
Manufacturing
Highland Foundry | Electron Metals | Kongsberg Simrad | Cratex Containers | JFC Solutions | Columbia Manufacturing | Carmanah Design and Manufacturing | IMW
Retail Sector/Sales (Online/Offline)
Pacific Balance | Brand Aid | Haida 1774 | Venice Bakery | Gourmet BC | Okanagan Spring Water | Cottonwood Mall | Rogest | Westcoast Fishing Club | CAREgifts – Estore | Crush Clothing | myCitymarket | RCD Solutions | Chocolate Concepts | Central City | CedarStone Outdoors | The Wise Guide | FreshKon Contact Lenses | Budget Brake & Muffler
High Tech
Oasis Wireless | CityXpress | Chrysalix | Convedia | myCom | myInternet | Fuel Cells Canada | The Current Corp | 3 One media | MiVault | Medmont
Bio – Tech
Inflazyme | Cardiocomm | Celator | Global Cardio | IBR | Advectus Life Sciences
Entertainment Industry
The Snow Walker | Big Mountain Concerts | Koko's | Edgemont TV | Generation Rave | Black Cloud | Infinity | Dusty Imoo | Randy Cohen's A Question Of Ethics | The Smerconish Podcasts | Real Estate Today Radio | Bob Kingsley's Country Top 40 | DialGlobal | BBC Kids | CBC Music | OutTV | Gay Direct | The Michael Smerconish Program | Tawkr.tv | Zach Sand And The Gang | ReUnion Pictures
Non Profits
Fishing for Kids | Community Kitchens | Food is The New Black | Vancouver Foodbank | CARE Canada | Celebrty Alumni AllStars | Bill Reid Gallery | Vancouver International Dance Festival | Souls In Stride | BC Childrens Hospital Foundation | Canadian Helpers Society | We Create BC | MPPIA | BC Creates
Agency Internals
We Create With Spirit | Next Phase Strategy | Immerse | Creative Spirit Communications | Kontent Creative | Momentum
Interactive CDs
Resource Sector
NovaGold | PanAmerican Silver | Endeavour Silver | UC Resources | Redcorp Ventures | Nevada Geothermal | Cardero | Alexco
Retail Sector
WiseGuide Demo | Utimate Viewer Install | Ultimate Viewer Tradeshow Screen
Medical
HNK | Vancouver Coastal Health
Real Estate
Time Real Estate | ZSTL Industries
Travel / Tourism
Nautilus Explorer | West Coast Fishing Club
Public Sector
Vancouver Police Department | WorksafeBC | WCB Scaffold
Consulting
Klohn Krippen | LifePilot | FireSwirl Technologies
Non – Profits
Fishing for Kids
Human Resources
Charterhouse
Internals
Creative Spirit Communications
Entertainment Industry
Nascar V8 | NHL Canada
Financial
BizFlex
StoryStations – Large scale interactive touchscreens.
Lake Las Vegas | Snowmass | Avanterra | Silvertip | River Rock | Superstition Mountain | Predator Ridge | Trump Tower Waikiki
User Interfaces
Software – Online Applications
Ultimate Viewer | my.com | Immerse | control-C
Public Sector
DecisionNet
Retail Sector
oNext | VIP Poker.